About Us
Saint John the Evangelist Catholic Church, affectionately known as "St. John's" by its parishioners, warmly welcomes you to our website.
We are located in the heart of Center City, providing spiritual enrichment for local residents, daily commuters, and visitors to our city of brotherly love.
St. John the Evangelist has been bringing the Good News to Philadelphia for over 186 years. Two canonized saints have ties to St. John's: St. John Neumann and St. Katharine Drexel. In 1941, St. John's established Holy Redeemer Chinese Catholic Church as a mission chapel. Twenty years later we opened St. John's Hospice to serve the homeless.
Our parish is a community of communities. There is a group for everyone -- from young adults, to healthcare professionals to the musically inclined.
Stop by anytime. We'd love to see you!
From the Pastor's Desk
From the Pastor's Desk
It is with great pleasure to warmly welcome you to St. John the Evangelist Parish here in Center City, Philadelphia.
I'm in my seventh year as pastor and it has been my experience that the parishioners of St. John's are warm and welcoming and strive to make the parish a vibrant, life-giving, community of Faith.
I know you will find that St. John's is an active community where we live our faith as parishioners through worship, religious and social ministries; the Mission Statement expresses our commitment in how we live out the message of the Gospel. We are a stewardship community recognizing the gifts and talents God has given each of us and using those gifts in strengthening the Body of Christ.
Please do not hesitate to contact us if you have any questions or if we can be of help to you.
Peace and God's blessings,
Father John Daya, O.F.M. Cap.
Pastor
Parish Mission Statement
PARISH MISSION STATEMENT
God calls us from many diverse backgrounds, cultures, professions, lifestyles and hope to be one in the Lord. Under the leadership of the Capuchin Franciscan friars, and in union with the Roman Catholic Archdiocese of Philadelphia, St. John the Evangelist Church welcomes all people to join us in praising God and serving God's people. We bring the light and compassion of Christ to those who live in darkness and despair. We provide pastoral care to the homeless, poor, aged and abandoned, to patients in area hospitals in need of comfort, prayer and healing, and through special mission to the Asian-American community.
We are a welcoming oasis of prayer and a haven of fellowship for commuters and neighbors, transients and friends, tourists and visitors.
As it has been for over 180 years, our mission today is to be a community without bounds, proclaiming the Good News of Jesus Christ, in both word and deed, from the Heart of Philadelphia to a world aching for God's boundless love and mercy.
Sacraments
Celebrating the Sacraments at St. John's
MARRIAGE
MARRIAGE
What preparations for marriage does the archdiocese require?
Each diocese has its own specific requirements, but there is general agreement among dioceses.
As soon as a couple has decided to marry in the Church, they should call the parish immediately to 'get on the schedule' of the parish church and the priest. Couples should never book a place for the wedding reception until after they have reserved the church and made arrangements with the presider.
The church requires that couples attend either a Pre-Cana program or an Engaged Encounter program. These can be taken in this archdiocese or elsewhere. These programs are designed to highlight information and skills that will be helpful to the couple, and to present Church teaching on the subject of marriage. It is important to schedule a Pre-Cana or Engaged Encounter program as early as possible.
A standardized 'test' to assess the couple's agreement on significant issues is often part of the Pre-Cana or Engaged Encounter program. If it is not, such a 'test' is done separately. At St. John's, we use a copyrighted assessment instrument called FOCCUS. This instrument, containing about 180 items, surveys the extent to which a couple agrees or disagrees about specific issues. It also often uncovers differences or consistencies in basic styles of thinking and acting. No couple 'fails' or 'passes' the FOCCUS. It is designed to prompt conversation between the bride and groom.
There are forms to fill out! The couple must supply information about who they are, their sacramental history, and their beliefs about marriage. In order for a couple to be married in the Catholic Church, one or both of them must be Catholic, and they must agree with the Catholic Church's understanding of marriage. A Catholic marriage must be seen by both parties to be:
1) lasting until death
2) requiring mutual fidelity
3) believing that openness to having children is an essential aspect of marriage.
If either the bride or groom disagrees with one or more of these teachings, the marriage cannot be celebrated in the Catholic Church. The bride and groom must each provide a recently issued copy of their baptismal certificate.
There are more forms to fill out! The bride and the groom must each supply two witnesses who can testify in person that they are free to marry, and that they believe what the Catholic Church believes about marriage. This testimony must be done in person, either with the priest or deacon who will preside at the wedding, or another priest or deacon elsewhere.
Finally, the wedding ceremony must be planned with the priest or deacon. The wedding is a public, official liturgy of the Church, and therefore there are strict limits to the amount of individualization that may be included. For example, the couple may not write their own vows (although there are some variations among the authorized vows). Music in the church must be liturgical, i.e. music of worship. Further, there are commonsense rules in every church about flowers, decorations, preparation time, policies about photography, etc.
Marriage Prep/Pre-Cana information:
Wedding inquires:

HOLY ORDERS
HOLY ORDERS
Diocesan priest and Religious order
The large majority of priests worldwide are diocesan priests. These men are ordained to work in a particular diocese or archdiocese. At the time of their ordination as deacons (usually about a year before their ordination as priests) they promise respect and obedience to the diocesan bishop and his successors. They also promise to live in chastity, and according to the status of clergy (which includes a comparatively simple life). Diocesan priests do not make vows, technically speaking, and do not promise poverty. Therefore, they may own their own property, such as cars, and handle their own financial affairs.
At deaconate ordination, the bishop accepts the promises of the deacon and priest, and thereby incardinates them into the diocese. This gives the transitional deacon and diocesan priest certain rights - such as the right to be supported by the diocesan church - and imposes on them the obligation to work for the diocesan church under the leadership of the bishop. This is a life-long commitment of mutual responsibility, although there are procedures in place by which a diocesan priest may choose to seek a transfer to a different diocese. Because most of the work of a diocese is done in parishes, a diocesan priest usually works in a parish. Some diocesan priests work in Catholic schools, as hospital chaplains, in administrative offices of the diocese, or in other places. Sometimes diocesan priests are called secular priests, because their main work is pastoral, i.e. to assist people who work in the contemporary world (Latin saeculum=world, the times).
Some priests are members of religious orders or institutes. A religious order or institute is an association established by the Church to promote a particular style of life or expression of spirituality, or to perform a specific type of work. Most religious communities of men work in more than one diocese, and many work worldwide. Each religious community has its own constitutions, and its members live according to a rule of life. All members of a religious community make vows or promises of poverty, chastity, and obedience. Some religious communities of men work in parishes, others do not. Religious priests work as hospital chaplains, retreat givers, teachers, itinerant preachers, parish priests, missionaries and in many other fields. Each community has its own charism, or gift of the Spirit. Priests who are members of a community bring that charism to their work.
The diocesan bishop supervises religious order priests when they are engaged in active ministry in his diocese, and no community can work in a diocese without his permission. The religious community's superior supervises the internal workings of the community. If a religious community serves the needs of a particular parish, it does so based on an agreement with the diocesan bishop.
What are some of the Catholic religious communities?
All religious communities of men and women must be authorized by the Church and cannot exist apart from such authorization. Each community follows a rule of life, and constitutions that implement the rule. Some approved rules are hundreds of years old and are very general in nature. The constitutions are updated periodically, help define the spirit and charism of the community, specify its organization and governance.
Some religious communities are contemplative. These groups separate themselves from the world in order to engage in a full time ministry of prayer and reflection, supplemented by work done internally within the cloister in order to support themselves. Examples of such communities are the Trappists (both monks and nuns), and Poor Clare and Discalced Carmelite nuns. Members of contemplative orders seldom leave their monastery, and they almost never engage in parish ministry. Some communities have strong contemplative traditions, but over the years have accepted some outside work, including parishes. This is particularly true outside of Europe. In the US, for example, Benedictine monks and nuns regularly work in parishes and other active ministries.
Other religious communities are active. Their rule and constitutions oblige them to work in the world. Many of these communities were founded to do some particular job, such as teaching, care of the sick, etc. For example, the Salesians of St. John Bosco were founded to work with poor and working class young men, and they staff orphanages and schools. Other active communities are more generalist in their approach, and their members take on a wide variety of tasks. Many communities of sisters that were originally founded for one particular work are now working in many areas of life.
A third type of religious community strives to live a mixed life. Their members work in active ministry, but also try to balance their activity with a strong contemplative focus. St. Thomas Aquinas called this the best and most difficult type of religious life. Examples of communities trying to live a mixed life are the Dominicans (St. Thomas Aquinas was a Dominican) and the Franciscans, including the Capuchins. Members of these communities work in many areas.
Many religious communities are worldwide (such as the Capuchins), and are organized into geographic units called provinces. Many other communities exist in only one country, or in even only a particular diocese.
Communities of men may consist of priests and lay (unordained) brothers. Some communities are nearly entirely lay (e.g. the Christian Brothers), and others have very few lay members (e.g. the Jesuits). The Capuchins consider themselves to be a community of brothers, many of whom are ordained.
Are you being called?
Go to https://heedthecall.org/ to find out.

ANOINTING THE SICK
ANOINTING THE SICK
When and how is the Annointing of the Sick administered?
This is perhaps the most misunderstood of the seven sacraments. It is - and it is not - "last rites?" for the dying. This sacrament heals the sick spiritually, and is intended for anyone who is seriously ill. The Anointing of the Sick may be given to the dying, but is certainly not limited to the dying. The sacrament is commonly administered. Seldom does a priest go a week without anointing at least one person. The sacrament can be repeated each time a person falls seriously ill, or when an illness takes a turn for the worse. Certainly anyone diagnosed with cancer, another life-threatening illness, or who faces major surgery should be anointed. Only a priest or bishop may administer this sacrament.
Anointing of the Sick is authorized by Scripture. We have, of course, multiple instances of praying for the sick in the ministry of Jesus himself, as well as many other Old and New Testament examples. The clearest warrant for the sacrament comes from the Letter of St. James: "Is anyone among you sick? He should summon the presbyters (priests and bishops) of the church, and they should pray over him and anoint him with oil in the name of the Lord, and the prayer of faith will save the sick person, and the Lord will raise him up. If he has committed any sins, he will be forgiven" (James 5: 14-15).
This sacrament may be celebrated anywhere, and the ritual book gives the priest longer or shorter options for its celebration. The essential part of the sacrament is the placing of a small amount of blessed oil on the person (usually on the forehead and the palms of the hands when that is possible), while saying the words: "Through this Holy Anointing, may the Lord in his love and mercy help you with the grace of the Holy Spirit. May the Lord, who frees you from your sin, save you and raise you up."
What are the effects of this sacrament? The Council of Trent said that the sacrament provides: "the grace of the Holy Spirit, whose anointing takes away sins, if any still remain, and the remnants of sin. This anointing also raises up and strengthens the soul of the sick person, arousing a great confidence in the divine mercy. Thus sustained, the sick person may more easily bear the trials and hardships of sickness, more easily resist the temptations of the devil . . . and sometimes regain bodily health, if this is expedient for the health of the soul."
If you or someone close to you is a proper candidate for this sacrament, please do not wait until you are hospitalized or dying to request anointing. Modern hospitals work efficiently, and there usually is not time for anointing between admission to the hospital and surgery. It is always better when the anointing takes place while the recipient is conscious and aware, and when they are surrounded by family and friends who are praying together. If you need this sacrament, talk to one of the priests here at St. John's, or the priest in your own parish if you are a visitor.
Our Friars
Friar Roger White
OFM Cap. Pastoral Supply
Friar Ben Regotti
In residence: OFM Cap
Friar Rafael Anguiano
In residence: OFM Cap
History of St. John's
St. John's Parish Community has fostered two American saints, caught fire twice (destroyed once), withstood anti-Catholic riots, fed the hungry, educated poor children and adults, and served as the proto-cathedral for the Diocese of Philadelphia. As the history below shows, we have always adapted to the needs of God's people in whatever circumstances we find ourselves. At one point in the 19th Century, we even had a 2:45 AM Mass for those who worked on the newspapers (the 'Printers Mass').
** most of this history has been compiled by anonymous parishioners of St. John the Evangelist Church. We note, however, that the architects at Atkin Olshin Schade have provided tremendous insights into the history of St. John the Evangelist Church.
Timeline
1800's
1800's
New Church
Bishop Francis P. Kenrick Feast of St. John the Evangelist. Francis P. Kenrick, Third Bishop of Philadelphia, authorizes Rev. John Hughes to build a new church, which will become the proto-cathedral for Philadelphia. December 27, 1830
A lot in the "western" part of Philadelphia is chosen as the site. It is on the east side of 13th St. between Market and Chestnut Streets.

1831
Passion Sunday St. John the Evangelist Church is consecrated.

April 8, 1832
First Fresco
Nicholas Monachesi completes what is probably the first true fresco in the United States in the interior of the church. He later becomes a famous Philadelphia portraitist. 1832
Fr. Hughes befriends Marc Frenaye, who lived for three years in Mexico. Fr. Hughes develops a great affection for Mexico and establishes a long-term and informal connection between Mexico and St. John the Evangelist Church. Many wealthy Mexican merchants living in Philadelphia help retire the debt from building the initial church.

1832 - 1834
Mozart's Requiem Mass
The American premier of Mozart's Requiem Mass takes place at St. John's.

April 29, 1834
A large fire breaks out on 13th Street above Chestnut. The church catches fire several times but is not destroyed. St. John's School established by Fr. Hughes in the basement of the church. Classes continue in the basement until 1899.

August 1834
St. John's was designated as the Proto-Cathedral for Philadelphia for the next quarter-century. Bishop Kenrick takes up residence.

January, 1838
Anti-Catholic violence erupts in Philadelphia
St. Michael's and St. Augustine's Churches were burnt. Public masses are suspended by the bishop. A detachment of militia (now National Guard) under General John Cadwalder defends St. John's from destruction in a battle at the corner of 13th and Market Streets. Forty people are killed in these riots. 1844
St. Katharine Drexel
St. John's is a flourishing residential parish. Parishioners at that time include Anthony Drexel and his family. One of his daughters, Katharine, is confirmed and receives First Holy Communion at St. John's. She later becomes a nun, founds the Congregation of the Sisters of the Blessed Sacrament, and later becomes known as St. Katharine Drexel. 1850's
St. John Neumann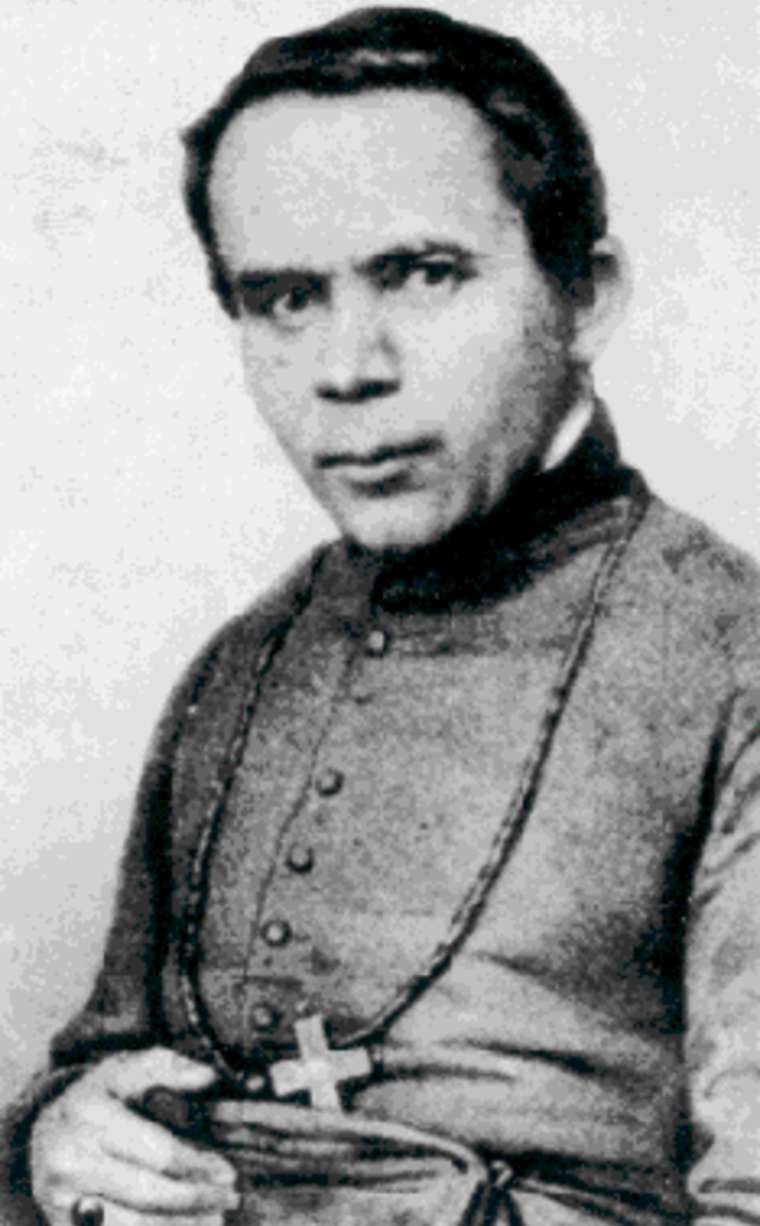 Bishop Neumann is welcomed to Philadelphia at St. John's and becomes the fourth bishop of Philadelphia on April 4th, Palm Sunday. He takes up residence at St. John the Evangelist Church and is later named a saint. 1852
Catholic Philopatrian Literary Institute
Fr. Sourin establishes the Catholic Philopatrian Literary Institute, which is still active today.
St John's joins the Jesuits when the pastor, Fr. Sourin, becomes a Jesuit. The Jesuits assume responsibility for the rest of the debt as well as running the parish.

December 8, 1855
The blessing of the Statue of the Blessed Virgin Mary of the Immaculate Conception.

May 16, 1857
Jesuits relinquish administration of the parish.

April 27, 1860
First Empress of Mexico
Madame Anna Maria Huarte de Iturbide, the First Empress of Mexico, dies and is buried in Vault IX of the Churchyard at the age of 79. Her husband, Mexican Emperor Augustin de Iturbide, overthrew the Spanish rule, but General Santa Ana forced his abdication on March 19, 1823. The Iturbide family was initially exiled to Italy. The former Emperor returned to Mexico to rally his forces, was captured instead, and executed on July 19, 1824. His family moved to Philadelphia, where they lived on Spruce St. near 13th, and later at 226 Broad St. A son Augustin J. Iturbide, a daughter, Sabina are also buried here. Two additional (unnamed) children are reburied in the vault in 1849. March 21, 1861
Cathedral opens near Logan Circle and St. John's reverts back to a parish. The parish is becoming less residential and more of a business district.
The original rectory is torn down and the current friary is built on the same site. By this time, John Wanamaker has built a large retail store near the church and City Hall is being built nearby.Much of the neighborhood around St. John's at this time is residences and small businesses. 1895
A great fire burns part of the block around Market Street and 13th Street. The church and part of the rectory are lost in the fire. Three firemen are killed fighting the fire when a building collapses on them. A fourth fireman later dies of pneumonia, contracted while fighting the fire. After the blaze is extinguished, the Blessed Mother statue remains standing amid the rubble. February 16 - 17, 1899
Mass for the firemen killed in the fire is held at the Academy of Music.

February 26, 1899
The Sisters of St. Joseph assume responsibility for the school. The school is moved out of the basement of the Church and from this time the basement is used as the Lower Church.

September 10, 1899
The First Bulletin
First parish bulletin, The Monitor is issued. The first bulletin notes the issue of paying "pew rent." The school children received instruction for First Holy Communion at 3:30 in the afternoon, while working children received their instruction at 8:00 PM. Fr. Fisher becomes the new pastor. Among his innovations is 2:45 AM Sunday Morning Mass for night workers. Most of these were newspaper workers, so the mass was known as the "Printer's Mass." The history notes that 300 workers were present for mass on November 5th, 1904.

September 1899
1900's
1900's
Lower Church Opened
The first Lower Church is opened, dedicated to Our Lady of Lourdes. The lower church was made possible by sinking the pillars supporting the main church through the basement and into the ground. The basement floor was lowered three feet to accommodate the Lower Church. Two openings at the front of the towers were made to access the Lower Church. The original basement entered from the side of the south tower on Clover St., which is a window today. 1902
Major renovation
A major renovation of the Upper Church takes place to celebrate the diamond jubilee of St. John's.
The upper balconies are removed at this time and the exterior walls are covered with a facing of granite. The towers are also extended higher. 1907
Fr. Fisher buys 1218 Vine street for use as a day nursery.

1912
Church Closed
St John's is threatened by an underground river that was diverted into the foundation of St John's by construction of the Adelphia Hotel. The river undermines the foundation to the point of noticeable settling. The church is closed for three weeks for fear of collapse.

January 1913
World War I
Father Lallou, one of the curates at St John's, leaves St. John's for service in World War I. The parish bulletin attempts to track the names of all of the men leaving for military service. Many of these names can be seen today on the plaque in the graveyard. 1917
The influenza epidemic forces the day nursery to close. In its place, a hospital for infants and children up to 7 years of age is opened.

1918
After this time, St John's is less of a parish church and more of a shrine church.

1920
Father Wastl becomes pastor
He institutes regular weekly confessions on Thursdays to meet the needs of the "living-out girls" on their day off.

May 1920
The Holy Name Society of St John's becomes very active in setting up athletic leagues (especially basketball).

1924
Sisters of the Visitation are exiled during persecutions of the church in Mexico. They come to Philadelphia and live in church property for several years before moving to their current monastery site on City Line Avenue.

1925
Humanitarian Award
With the onset of the Depression, St John's becomes active in feeding the hungry. About 700 men per day are fed at St John's. The pastor, Monsignor Wastl, is given a humanitarian award by Philadelphia, but declines to accept.

1929
Centenary Mass
Centenary Mass is celebrated by the rector of St. Charles Seminary, Rt. Rev. Joseph Corrigan. He describes St. John's as "a heart in the very breast of a great city, throbbing with faith and hope and love."

April 10, 1932
46,089 visitors a week
Msgr. Wastl counts 46,089 visitors to St. John's in one week even though there are no special devotions.

1932
Pamphlet Room
Msgr. Wastl opens the Pamphlet Room in the rear of the basement, run by the Information League. It sells about 150,000 Catholic pamphlets a year, one of the largest services in the country. As part of their service, they take questions on the Catholic faith. They average about 200 inquiries per week from across the country.

January 1937
Daily Exposition of the Blessed Sacrament begins.

October 1, 1939
Chinese community
Bishop Yu Pin visits Philadelphia and encourages the Chinese community to become involved in the Memorial Day services at St John's. Over 400 Chinese Catholics attend. So many Chinese become involved in St John's parish that a separate chapel of St John's is created in Chinatown. This chapel later expands to Holy Redeemer Church, which is opened on October 5, 1941.Fr. Tom Betz, the current Administrator of the chapel, resides at St. John's.

1939
Msgr. Wastl dies
He served St John's for over 30 years.

April 11, 1943
Fr. Kavanaugh becomes pastor
Among his innovations is the display box. Nine out of ten people who walk along 13th street stop to see what is in the display box, usually an explanation of some church doctrine. He also renovates the rectory, starts daily scheduled confessions, and installs air conditioning in the Lower Church. He dies in 1949.

April 1943
Fr. Boyle becomes pastor
He initiates the St. John's Night School for Adults, which later becomes the St. John's Evening School. He dies in 1954 from a heart attack.

1951
Fr. Anthony O'Neill becomes pastor
His concern for the poor and homeless in Center City leads to the establishment of St. John's Hospice for Transient Men, which is blessed in September 1963.

1959
The Upper Church is redecorated and the lower chapel is renovated.

1963
St. John Neumann is canonized.
Fr. Greg Chervenak
The Capuchin Franciscan Friars accept responsibility for managing St. John's Parish. Fr. Greg Chervenak is pastor.

1991
Fr. Fred Krause
Fr. Fred Krause serves as pastor of St. John's.

1995-1997
Fr. Jim Menkhus
Fr. Jim Menkhus serves as pastor of St. John's.

1997-2001
Fr. Francis X. Russo
Fr. Francis X. Russo serves as pastor of St. John's.
Fr. Frank Yacobi
Fr. Frank Yacobi becomes pastor. St. John's receives over 300,000 visitors per year. August 28, 2004
175th Jubilee
St. John's celebrates its 175th Jubilee

2004-2005
Firefighters Memorial Mass
St. John's institutes an annual Memorial Mass to honor the four firefighters killed as a result of the 1899 fire. February 16, 2008
Fr. John Daya
Fr. John Daya is installed as pastor of St. John's. October 30, 2010

St. John's in the 2015 World Meeting of Families video promo.
Made possible by the History Making Productions at historyofphilly.com
DIRECTIONS & PARKING INFO
Parking Info
Parking
Park for just $15 every weekend and weeknight at the Loews Hotel Parking Garage
(depending on availability).
Just mention St. John the Evangelist Church.
Eastbound I-676 / Vine Street Expressway
Eastbound I-676 / Vine Street Expressway
(from western PA, from I-76)
Take the Broad Street exit.
Bear right at exit ramp, turning onto 15th street.
After passing City Hall, turn left onto Chestnut Street.
Pass Macy's department store.
Turn left onto 13th Street.
Saint John's will be on the right.
Westbound I-676 / Vine Street Expressway
Westbound I-676 / Vine Street Expressway
(from NJ, from I-95)
Take the Broad Street exit.
The exit ramp curves onto 15th street. Continue straight onto 15th steet.
After passing City Hall, turn left onto Chestnut Street.
Pass Macy's.
Turn left onto 13th Street.
Saint John's will be on the right.